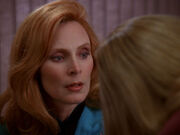 Sandy Goldman is an actress who worked as photo double for Nicole Orth-Pallavicini on the Star Trek: The Next Generation fourth season episode "The Host" in 1991. She filmed her scenes on second unit on Thursday 18 April 1991 on Paramount Stage 9 with Gates McFadden and her photo double Cameron.
In 1986, Goldman appeared as a Raider's Girl in the science fiction adventure Land of Doom with fellow Trek actor Richard Allen.
External link
Edit
Ad blocker interference detected!
Wikia is a free-to-use site that makes money from advertising. We have a modified experience for viewers using ad blockers

Wikia is not accessible if you've made further modifications. Remove the custom ad blocker rule(s) and the page will load as expected.