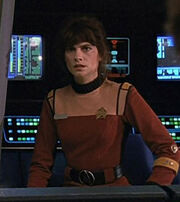 Sandy Free is a stuntwoman who performed stunts as an Excelsior crewman in Star Trek VI: The Undiscovered Country.
Free performed also stunts in the films Leather Jackets (1989, with stunts by Jeff Imada) and New Nightmare (1994, with Tracy Middendorf, Cully Fredricksen, Matt Winston, Rob LaBelle, Beans Morocco, Fran Bennett, and stunts by Tony Cecere, Christopher Doyle, Maria R. Kelly, and Lynn Salvatori).
External link
Edit
Ad blocker interference detected!
Wikia is a free-to-use site that makes money from advertising. We have a modified experience for viewers using ad blockers

Wikia is not accessible if you've made further modifications. Remove the custom ad blocker rule(s) and the page will load as expected.