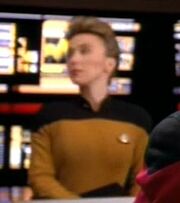 Sandra Grando is an actress who was credited for playing the USS Odyssey's second officer in the Star Trek: Deep Space Nine episode "The Jem'Hadar". The majority of her appearance was cut from the final aired episode, although she appears briefly, manning the Odyssey's tactical station; lines intended for the character in the script were instead spoken by Michael Jace's character.
Grando has no other known on-screen appearances.
External link
Edit
Ad blocker interference detected!
Wikia is a free-to-use site that makes money from advertising. We have a modified experience for viewers using ad blockers

Wikia is not accessible if you've made further modifications. Remove the custom ad blocker rule(s) and the page will load as expected.