SS TsiolkovskyEdit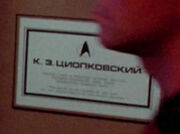 The following information was listed on the dedication plaque of SS Tsiolkovsky.
Motto inspired by:
The Earth is the Cradle of the Mind : but one cannot remain in the cradle forever.
- Konstantin E. Tsiolkovsky (Pioneer Of Space Flight)

The plaque reads "К. З. ЦИОПКОВСКИЙ", which transliterates to "K. Z. TSIOPKOVSKY" in the

Cyrillic alphabet

. The correct spelling would be "К. Э. ЦИОЛКОВСКИЙ".
Ad blocker interference detected!
Wikia is a free-to-use site that makes money from advertising. We have a modified experience for viewers using ad blockers

Wikia is not accessible if you've made further modifications. Remove the custom ad blocker rule(s) and the page will load as expected.