The SS Artemis was a 23rd century Federation colony ship.
Artemis was launched from Mars in 2274, on stardate 7678.43, on a colonization mission to planet Septimis Minor. The mission commander was Philip Peter Bryce, with Galen Pizzorno serving as Deputy Mission Director. Contact with the ship was lost on stardate 7780.85. Numerous searches by Starfleet failed to locate the transport or any trace of its crew and passengers.
The fate of the Artemis was finally revealed in 2366 after the Sheliak demanded Tau Cygna V be evacuated per the terms of the Treaty of Armens with the Federation. The starship USS Enterprise-D discoverd a Human settlement on the planet. The colonists were the descendants of the Artemis crew and passengers.
According to the colonists, the guidance system on the Artemis failed, sending it off course. Eventually, after finding the planet Tau Cygna V, the crew landed the ship on the world. (TNG: "The Ensigns of Command" okudagram)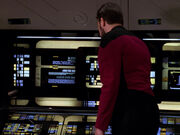 The fate of the
Artemis
was not stated in the episode.
Ad blocker interference detected!
Wikia is a free-to-use site that makes money from advertising. We have a modified experience for viewers using ad blockers

Wikia is not accessible if you've made further modifications. Remove the custom ad blocker rule(s) and the page will load as expected.