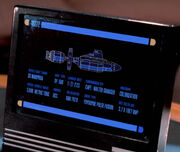 ---
SS was a prefix before a starship name for some vessels in the Earth and Federation registries.
Prior to Dr. Zefram Cochrane's discovery of warp drive, it was used to signify sleeper ships and cryonic satellites. (TOS: "Space Seed"; TNG: "The Neutral Zone") The earliest warp-capable "space ships" would use this registry. (TOS: "Where No Man Has Gone Before"; ENT: "Terra Nova") The prefix was then seen on survey ships and colonization starships. (TNG: "Up The Long Ladder")
Within a hundred years, freighters and transports were given SS prefixes. (TOS: "Friday's Child"; Star Trek Generations) By the mid-24th century, some Template:ShipClass science ships were given the prefix as well. (TNG: "The Naked Now", "Hero Worship")
List of SS ships
Background Information
The registry "SS" is used by the United States of America to reference submarines. SS was first used in a Trek production as early as "Where No Man Has Gone Before" (for the SS Valiant), but was actually referenced in Gene Roddenberry's Star Trek pitch for the main ship, the SS Yorktown that became the USS Enterprise.