Ad blocker interference detected!
Wikia is a free-to-use site that makes money from advertising. We have a modified experience for viewers using ad blockers

Wikia is not accessible if you've made further modifications. Remove the custom ad blocker rule(s) and the page will load as expected.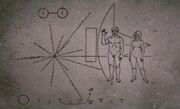 SETI, which stands for "Search for Extra Terrestrial Intelligence", was a 20th century Earth effort to explore, understand and explain the origin, nature and prevalence of life - most notably alien intelligence - in the universe.
The SETI greeting was displayed on a plaque on the hull of such NASA probes as Voyager 6 and Pioneer 10. (Star Trek: The Motion Picture; Star Trek V: The Final Frontier)
In 1996, a young researcher, Rain Robinson, detected the USS Voyager and transmitted the standard SETI greeting. (VOY: "Future's End")
External link
Edit