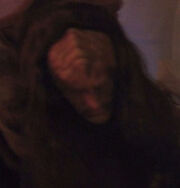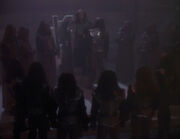 You may be looking for the fictional Professor James Moriarty or his holographic counterpart.
S. Moriarty is the name of the actor who appeared as the dead Joseph A. Longo in the Star Trek: The Next Generation fourth season episode "Night Terrors" in 1991. The same year, he played a dead Klingon officer in the fifth season episode "Redemption II". He also appeared as a different Klingon in this episode in several scenes in the Klingon nightclub and the Great Hall. In the latter scene he was one of the Klingon councilmen with capes.
Ad blocker interference detected!
Wikia is a free-to-use site that makes money from advertising. We have a modified experience for viewers using ad blockers

Wikia is not accessible if you've made further modifications. Remove the custom ad blocker rule(s) and the page will load as expected.