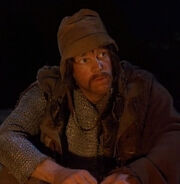 Simon A. Templeman is an actor and voice artist who appeared as the holodeck character John Bates in the Star Trek: The Next Generation third season episode "The Defector" in 1989. He was credited as S.A. Templeman in the end credits of this episode. Since 1989, he has been married to Rosalind Chao, who portrayed Keiko O'Brien on The Next Generation and Star Trek: Deep Space Nine.
In 2003, both Chao and Templeman appeared on second-season episodes of the series Monk, which featured Stanley Kamel in a recurring guest role as Adrian Monk's psychiatrist. Templeman appeared alongside fellow Trek actors David Doty, Damara Reilly, and Wendy Schenker.
He also starred in the series The Neighbors as Larry Bird, which included guest star George Takei in the season one finale.
Templeman was born in Sussex, England, United Kingdom.
External links
Edit
Ad blocker interference detected!
Wikia is a free-to-use site that makes money from advertising. We have a modified experience for viewers using ad blockers

Wikia is not accessible if you've made further modifications. Remove the custom ad blocker rule(s) and the page will load as expected.