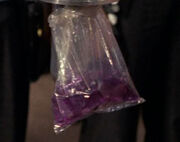 Ryetalyn was the only known cure for the deadly disease Rigelian fever. It was a rather rare mineral.
In 2269, the crew of Federation starship USS Enterprise became infected with Rigelian fever and visited the planet Holberg 917G, which had rich natural ryetalyn deposits. There they encountered the immortal Flint and his android partner Rayna Kapec. (TOS: "Requiem for Methuselah")
Ad blocker interference detected!
Wikia is a free-to-use site that makes money from advertising. We have a modified experience for viewers using ad blockers

Wikia is not accessible if you've made further modifications. Remove the custom ad blocker rule(s) and the page will load as expected.