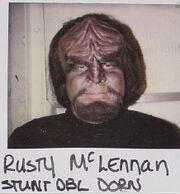 Leon Rusty McClennon is a stuntman and stunt actor who was the regular stunt double for Michael Dorn in Star Trek: The Next Generation and Star Trek Generations. He received no credit for his work. Four costumes as stunt double for Michael Dorn from "A Fistful of Datas", "Qpid", "Firstborn", and Star Trek: Generations were sold off on the It's A Wrap! sale and auction on eBay. [1] [2] [3] [4] [5] [6] [7]
McClennon was a stuntman in films such as Glory (1989, with Bob Gunton, Cliff DeYoung, Richard Riehle, Ethan Phillips, Bob Minor, and Brian J. Williams), Predator 2 (1990, with Kevin Peter Hall, Lilyan Chauvin, Philip Weyland, and Jeff Cadiente), Jingle All The Way (1996, with Daniel Riordan, Bruce Bohne, Amy Pietz, Brennan Dyson, and Scott Workman), Swordfish (2001, with Rudolf Martin, Zach Grenier, Dana Hee, Denney Pierce, Joey Box, and Mark Riccardi), and Training Day (2001, with Harris Yulin, Raymond Cruz, and Christopher Doyle).
Among his television credits are Airwolf (1985) and The Practice (1999-2000, with Wren T. Brown, Richard McGonagle, and Eileen Weisinger).

Star Trek appearances
External link