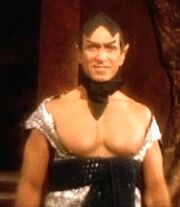 Russ Peek is an actor and stunt performer who portrayed four background characters in Star Trek: The Original Series, including three Vulcans. Peek's four TOS Season 2 roles are his only known television appearances.
Peek filmed his scenes for "Amok Time" between Wednesday 14 June 1967 and Monday 19 June 1967 at Desilu Stage 10, his scenes for "The Apple" between Thursday 20 July 1967 and Monday 24 July 1967 at Stage 10, his scene for "Mirror, Mirror" on Wednesday 2 August 1967 at Stage 9, and his scene for "Journey to Babel" on Tuesday 26 September 1967 at Stage 10.
Star Trek appearancesEdit
Ad blocker interference detected!
Wikia is a free-to-use site that makes money from advertising. We have a modified experience for viewers using ad blockers

Wikia is not accessible if you've made further modifications. Remove the custom ad blocker rule(s) and the page will load as expected.