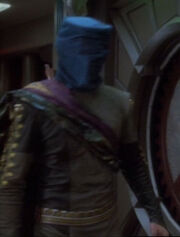 Rul the Obscure was a patron of Quark's on Deep Space 9.
In 2369 he participated in an auction there, in which he purchased a jeweled necklace that had been obtained from somewhere in the Gamma Quadrant by Vash; he paid 150 bars of latinum for the necklace. Quark regarded Rul and his companions as being "ridiculously wealthy... and not too bright." (DS9: "Q-Less")
Rul the Obscure was portrayed by Stan Petier, who received no credit for his appearance.
According to the script Rul and the two others were "Celestine", probably members of a religous group and possibly not members of the same species.
Rul's gloves are different than the gloves of the other two members.