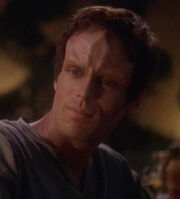 Rudolf Martin (born 31 July 1967; age 48) is the German-born actor who played Ravis in the Star Trek: Enterprise episode "Two Days and Two Nights".
Outside side of Star Trek, Martin has had recurring roles on the hit television series 24 and NCIS. On the former, he has worked alongside fellow Trek performers Penny Johnson, Zach Grenier, Glenn Morshower, Jeff Ricketts; on the latter, he has worked with the likes of Alan Dale and Tim Kelleher.
Prior to this, he was a regular on the soap opera All My Children, playing Anton Lang from 1993 through 1996. He also appeared in such films as High Art (1998), Bedazzled (2000), and Swordfish (2001).
He also played the role of Dracula in the Buffy the Vampire Slayer episode "Buffy vs. Dracula". He also played Vlad the Impaler, the real-life inspiration for Dracula, in the TV movie Dark Prince: The True Story of Dracula, co-starring fellow Enterprise guest actor Peter Weller. His other TV credits include guest appearances on Sliders, CSI, Crossing Jordan, and more recently, Nikita (which has Melinda Clarke playing one of the main characters).
External links