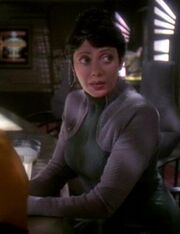 An Assyrian born in Iran, Rosie Malek-Yonan (born 4 July 1965; age 52) aspired to compete in the 1980 Olympics in figure skating, but was forced to leave her place in the games because the Islamic government required Christian Olympic representatives to convert to Islam, and female athletes were required to wear robes and head scarves.
She played the role of Tekoa in DS9: "The Assignment".
In addition to her career in performance and music, she is also a writer, author of The Crimson Field, a true story set to the backdrop of the Assyrian Genocide in the shadows of World War I, 1914-1918.
Selected filmography
Edit
Television
Edit
As a guest star: ER, JAG, CSI: Miami, The Practice, Profiler, Seinfeld (with Jason Alexander), The Visitor, Diagnosis: Murder, NYPD Blue, Babylon 5, Murder She Wrote, et al.
Recurring roles: Beverly Hills, 90210, Chicago Hope, Days of Our Lives, General Hospital, The Young and the Restless, Capitol, Santa Barbara and most recently she returned to General Hospital in the role of Farah Mir.
Documentaries
Edit
The Assyrians (2007) - Director
My Assyrian Nation on the Edge (2006)
External links
Edit
Ad blocker interference detected!
Wikia is a free-to-use site that makes money from advertising. We have a modified experience for viewers using ad blockers

Wikia is not accessible if you've made further modifications. Remove the custom ad blocker rule(s) and the page will load as expected.