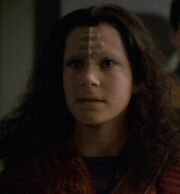 Rosemary Morgan (born 12 September 1983; age 33) is an actress from Los Angeles, California who made her television acting debut playing Piri in the Star Trek: Voyager episode "The Chute". She is the daughter of TOS guest star Julie Cobb and ex-stepdaughter of Star Trek: First Contact actor James Cromwell. As she was a minor at the time of her Voyager appearance, her mother accompanied her to the set. [1]
Morgan went on to appear on Chicago Hope and the films Visions of Cody (2004, co-starring John Glover), Final Approach (2006), Nancy Drew (2007) and The Accidental Death of Joey by Sue (2010).
External link
Edit
Ad blocker interference detected!
Wikia is a free-to-use site that makes money from advertising. We have a modified experience for viewers using ad blockers

Wikia is not accessible if you've made further modifications. Remove the custom ad blocker rule(s) and the page will load as expected.