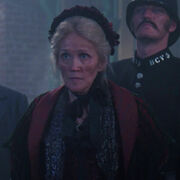 Rosemarie Baio Yaros (3 March 1937 – 31 August 2012; age 75) was the former actress from Gary, Indiana who portrayed the widow in the Star Trek: The Next Generation second season episode "Elementary, Dear Data" in 1988.
Also known as Rosemarie Yaros she worked as teacher in the performing arts department at the Damien High School in La Verne, California.
She lost her battle with ovarian cancer on Friday, 31 August 2012 at the age of 75. [1] [2]
Ad blocker interference detected!
Wikia is a free-to-use site that makes money from advertising. We have a modified experience for viewers using ad blockers

Wikia is not accessible if you've made further modifications. Remove the custom ad blocker rule(s) and the page will load as expected.