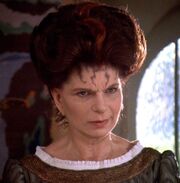 Ronnie Claire Edwards (born 9 February 1933; age 83) is the actress who played Talur in the Star Trek: The Next Generation seventh season episode "Thine Own Self" in 1993. Her costume from this episode was later sold off on the It's A Wrap! sale and auction on eBay. [1]
Born in Oklahoma City, Oklahoma, USA, she is perhaps best known for her role as Corabeth Walton Godsey in the television series The Waltons (1974-1981, co-starring John Crawford) and its television movie spinoffs.
Edwards' film work includes the final Dirty Harry sequel "The Dead Pool"(1988) with Marc Alaimo and Louis Giambalvo.
External links