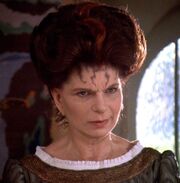 Ronnie Claire Edwards (9 February 1933 – 14 June 2016; age 83) was the actress who played Talur in the Star Trek: The Next Generation seventh season episode "Thine Own Self" in 1993. Her costume from this episode was later sold off on the It's A Wrap! sale and auction on eBay. [1]
Born in Oklahoma City, Oklahoma, USA, she is perhaps best known for her role as Corabeth Walton Godsey in the television series The Waltons (1974-1981, co-starring John Crawford) and its television movie spinoffs.
Edwards' film work includes the final Dirty Harry sequel The Dead Pool (1988, with Marc Alaimo and Louis Giambalvo).
Edwards died on 14 June 2016 in her sleep. [2]
External links
Edit
Ad blocker interference detected!
Wikia is a free-to-use site that makes money from advertising. We have a modified experience for viewers using ad blockers

Wikia is not accessible if you've made further modifications. Remove the custom ad blocker rule(s) and the page will load as expected.