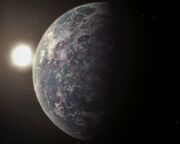 The following is a list of mentioned planets and star systems in the Romulan Star Empire. All planets listed are or were inhabited at some point of time.
Stars, star systems and other stellar phenomena
Edit
Tranome Sar was mentioned as the site of a battle between the Klingons and the Romulans, therefore it might be a planet or star within the Romulan Star Empire.
Ad blocker interference detected!
Wikia is a free-to-use site that makes money from advertising. We have a modified experience for viewers using ad blockers

Wikia is not accessible if you've made further modifications. Remove the custom ad blocker rule(s) and the page will load as expected.