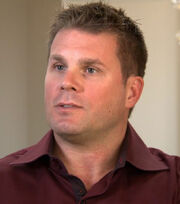 Eugene Wesley "Rod" Roddenberry Jr. (born 2 May 1974; age 42) (Los Angeles, California) is the only son of Star Trek creator Gene Roddenberry and his second wife, Majel Barrett-Roddenberry. He had two sisters, Darleen Roddenberry and Dawn Roddenberry, from Gene Roddenberry's first marriage to Eileen Anita Rexroat.
Interactions with Star Trek
Rod acted as executive producer and narrator of Trek Nation, a Star Trek documentary slated for release in late 2011. [1]
He discussed his father Gene during an appearance in The Captains Of The Final Frontier, a 2010 Star Trek documentary made for American television.
Rod acted as a consultant on, advocate for, and promoter of the fan-made Star Trek: New Voyages series.
He worked as an uncredited Art Department production assistant on either Star Trek: The Next Generation or Star Trek: Deep Space Nine for at least a year in the mid-1990s. [2]
The "Trek Fish" variant of the "Jesus Fish" (Ichthys symbol) car bumper ornament was designed by Rod.
Rod was interviewed and introduced the Gene Roddenberry: Up Close And Personal video documentary release from 2010.
Other Activities
He wrote an episode of the science fiction series called Earth: Final Conflict, which was a project conceived by Gene Roddenberry in the 1970s and produced by Majel Barrett in in Toronto starting in 1997.
Rod has also been involved with a large number of real-world science endeavors including The Ansari X-Prize, NASA, JPL, The Planetary Society, The Roddenberry Dive Team, and the Kennedy Space Center.
External inks