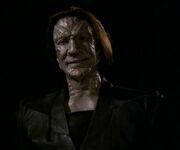 Robin Sachs (born 5 February 1951; age 65) is the actor who played General Valen in the Star Trek: Voyager episode "The Void".
He is perhaps best known for his role as Ethan Rayne in the television series Buffy the Vampire Slayer (in which he appeared with his fellow Voyager guest stars Armin Shimerman and Harry Groener). He also appeared on several episodes of Babylon 5.
His film credits include Jurassic Park: The Lost World (1997), Galaxy Quest (1999), and Ocean's Eleven (2001).
External links