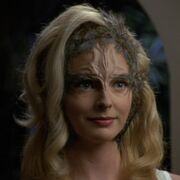 Robin McKee played Lidell Ren on the Star Trek: Voyager episode "Ex Post Facto".
In 1994, she appeared in the comedy film Wagons East, which had Voyager regulars Robert Picardo and Ethan Phillips in its cast.
Also in 1994, she appeared as an elevator passenger in the action film Speed, which also starred Alan Ruck and Richard Lineback.
External link