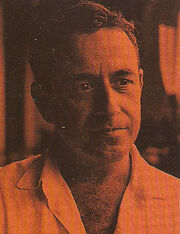 Robert "Bob" Wiemer (30 January 1938 – 21 August 2014; age 76) was a writer and director who directed several episodes of Star Trek: The Next Generation and Star Trek: Deep Space Nine between 1989 and 1994. He was interviewed by Bill Florence for the article "Robert Wiemer - Historian of Data's Day", published in The Official Star Trek: The Next Generation Magazine Vol. 19, pp. 12-16.
Prior to his work on Star Trek, Wiemer wrote and directed the films My 17th Summer, Somewhere, Tomorrow (1983), Anna to the Infinite Power (1983), and The Night Train to Kathmandu (1988) as well as several episodes of the television series The Adventures of Superboy.
Star Trek credits Edit
External links
Edit
Ad blocker interference detected!
Wikia is a free-to-use site that makes money from advertising. We have a modified experience for viewers using ad blockers

Wikia is not accessible if you've made further modifications. Remove the custom ad blocker rule(s) and the page will load as expected.