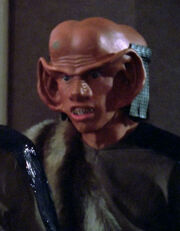 Robert "Bob" Towers (born 29 April 1952; age 65) is the actor who portrayed the Ferengi Rata in the Star Trek: The Next Generation first season episode "The Battle". He was born on Long Island.
Towers' career has been focused mainly in comedy and family films with some action roles mixed in. Towers co-starred in the 1986 comedy Stewardess School which included Earl Boen, Brett Cullen, Paddi Edwards, Paul Eiding, Bill Erwin, Richard Lineback and Don Most. Next was 1987's Masters of the Universe where Towers shared the fantasy adventure with Anthony De Longis, Meg Foster, Frank Langella as the villain Skeletor and VOY lead Robert Duncan McNeill. Transitioning from fantasy adventure to goofy comedy, Towers was seen in 1988's Hot to Trot with Virginia Madsen, Jim Metzler and Vyto Ruginis. Towers continued in the comedy way appearing in 1989's Let it Ride with Terri Garr and Michelle Phillips. Towers kept going into the 90s first with 1991's gender-bending film Switch sharing the screen with James Harper and Lily Mariye. Towers then kept a low-film profile but did appear in the 2005 special Sarah Silverman:Jesus is Magic. In 2009, Towers acted in Table for Three with Jennifer Morrison.
On television Towers kept active. Towers was a teen actor when he appeared on Beretta guest-starring with Jerry Hardin in "The Appointment", however Towers' television resume' only expanded when he became an adult. Such was the case when Towers worked with Bonita Friedericy on Angel in the apocalyptic "Peace Out". Towers got "Caught in the Act" on Frasier starring Kelsey Grammer. That episode also included Larry Cedar and Don McManus. Up next for Towers was Hannah Montana in "Cheat It" with Michael Kagan.
External links
Edit
Ad blocker interference detected!
Wikia is a free-to-use site that makes money from advertising. We have a modified experience for viewers using ad blockers

Wikia is not accessible if you've made further modifications. Remove the custom ad blocker rule(s) and the page will load as expected.