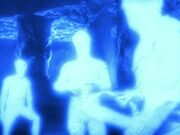 Robert Seeley is an actor who appeared as one of the Devidians in the Star Trek: The Next Generation episodes "Time's Arrow" and "Time's Arrow, Part II". He received no credit for his appearances.
Beside his appearance in Star Trek, Seeley had featured parts in the television drama Star (1993, with Terry Farrell, Mitchell Ryan, Albert Hall, Jane Daly, James Gleason, and Mark La Mura), the independent film How's Your Romance (1994), the comedy Perfect Mate (1996), and the adventure The Man in the Iron Mask (1998, with Edward Albert, Brigid Brannagh, Meg Foster, and Dan Koko).
More recently hze worked as associate producer on the drama Exodus? (2009) and appeared in the short films Knock Her Socks Off (2009) and If You Could Only Be You (2015) and in the drama The Love Witch (2016).
External link
Edit