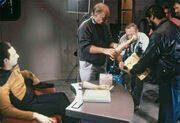 Robert Scheerer (born 28 December 1929; age 86) is a director from Santa Barbara, California who directed many Star Trek: The Next Generation episodes, as well as a few Star Trek: Deep Space Nine and Star Trek: Voyager episodes.
Other television programs he has directed for include The Danny Kaye Show, Ironside, Hawaii Five-O, Police Story, Kolchak: The Night Stalker, The Love Boat, The Mary Tyler Moore Show, Knots Landing, Dynasty, Falcon Crest, and Matlock. He has also received Emmy nominations for his direction of three Fame episodes.
He also directed such films as The World's Greatest Athlete (1973) and How to Beat the High Co$t of Living.
Directing credits
External links