Actor Robert Pine (born 10 July 1941; age 74) played Ambassador Liria in the Star Trek: Voyager episode "The Chute". He would later play the role of Captain Tavin in the Star Trek: Enterprise episode "Fusion". His son, Chris Pine, plays James T. Kirk in J.J. Abrams' Star Trek.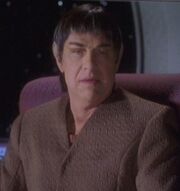 Beyond the realm of Star Trek, Robert Pine is most famous for his role as Sergeant Joseph Getraer on the television series CHiPs, which Michael Dorn also guest-starred on. He has also made guest appearances on a number of other shows, including Gunsmoke, Barnaby Jones, Charlie's Angels, Murder, She Wrote, The West Wing, and Six Feet Under. He also guest-starred on an episode of Quantum Leap, starring his future Star Trek: Enterprise co-star Scott Bakula and one-time Enterprise guest actor Dean Stockwell.
Pine appeared in the TV movie Incident on a Dark Street (1973, with William Shatner). He and Shatner would reunite in a Priceline commercial, in which Pine played a chauffeur. Pine has also worked on numerous feature films. These include: 1968's Journey to Shiloh with Star Trek: Deep Space Nine guest actor Michael Sarrazin; 1977's Empire of the Ants with original series guest stars Joan Collins and Robert Lansing; 1979's The Apple Dumpling Gang Rides Again with Kenneth Mars, Rex Holman, Nick Ramus, Ed McCready and John Arndt; 1996's smash science fiction hit Independence Day, featuring Star Trek: The Next Generation star Brent Spiner as well as Bill Smitrovich, Leland Orser, Randy Oglesby, and Erick Avari; and 2003's Confidence, with Leland Orser, Tommy "Tiny" Lister, Jr., and John Carroll Lynch.
Pine was most recently seen in the independent action film Mach 2 (with Michael Dorn), the 2005 thriller Red Eye (with Suzie Plakson and Dey Young) and the 2010 dramedy Small Town Saturday Night (once again co-starring alongside his real-life son Chris Pine).
External links