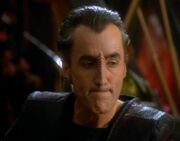 Robert MacKenzie is the actor who played Trazko in the Star Trek: Deep Space Nine episode "Necessary Evil".
His previous television credits include V (in which he co-starred with Anthony De Longis, John McLiam, Duncan Regehr, and Jeff Yagher), L.A. Law (starring Corbin Bernsen), Hunter, Beverly Hills, 90210 (with Ann H. Gillespie), and an episode of Quantum Leap (starring future Star Trek: Enterprise actors Scott Bakula and Dean Stockwell). He also appeared in the 1990 TV movie The Incident, co-starring William Schallert, and the 1991 TV movie Never Forget, starring Leonard Nimoy. Both of these movies were directed by Joseph Sargent.
His latest screen appearance was in the 1995 TV movie Liz: The Elizabeth Taylor Story, co-starring Judith Jones, Michael McGrady, Eugene Roche, and Ray Wise.
External link
Edit
Ad blocker interference detected!
Wikia is a free-to-use site that makes money from advertising. We have a modified experience for viewers using ad blockers

Wikia is not accessible if you've made further modifications. Remove the custom ad blocker rule(s) and the page will load as expected.