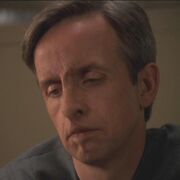 Robert Joy (born 17 August 1951; age 66) is an actor who played Yerid in the Star Trek: Voyager episode "Workforce, Part II".
He portrayed Dr. Sid Hammerback, the chief coroner, on the series CSI: New York.
He starred with Star Trek: Deep Space Nine guest stars Stephen McHattie and Julian Christopher in the 2004 film The Lazarus Child. He also appeared in the 1981 film Ragtime, with Brad Dourif.
External links
Edit