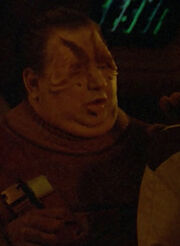 Robert J. Feldman is the actor, writer, and producer who played a Pakled officer in the Star Trek: The Next Generation second season episode "Samaritan Snare". As a background performer he received no credit for his performance.
In 2004 he served as composer and appeared in a cameo role in the documentary Carlos Castaneda: Enigma of a Sorcerer. In 2006 he wrote the story and served as producer for the drama Maple Palm, in which he also portrayed the role of Billy.
External link
Edit
Ad blocker interference detected!
Wikia is a free-to-use site that makes money from advertising. We have a modified experience for viewers using ad blockers

Wikia is not accessible if you've made further modifications. Remove the custom ad blocker rule(s) and the page will load as expected.