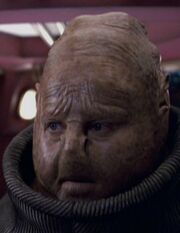 Robert Greenberg is the actor who played the Hierarchy member Devro in the Star Trek: Voyager episode "Tinker Tenor Doctor Spy".
Greenberg had a recurring role as Mr. Loopman in the FOX television series Parker Lewis Can't Lose, on which fellow Voyager guest star Gerrit Graham was a regular. Greenberg had previously appeared with Graham in the 1986 Roger Corman-produced horror film Chopping Mall, co-starring Dick Miller. Greenberg also had roles in the films Cocktail (1988, starring Laurence Luckinbill) and Guncrazy (1992, featuring Tracey Walter) and made a guest appearances in a 1993 episode of Beverly Hills, 90210, with Ann H. Gillespie.
External link
Edit
Ad blocker interference detected!
Wikia is a free-to-use site that makes money from advertising. We have a modified experience for viewers using ad blockers

Wikia is not accessible if you've made further modifications. Remove the custom ad blocker rule(s) and the page will load as expected.