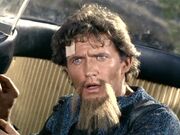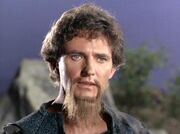 Robin Adair MacKenzie Brown, known as Robert Brown (born 17 November 1926; age 89) is an actor who has made one appearance on Star Trek: The Original Series, playing both Lazarus-A and Lazarus-B in the episode "The Alternative Factor". He was hired as a last-minute replacement for actor John Drew Barrymore who had been cast in the role but didn't show up on the first day of shooting. Coincidentally, his first filming day on the episode was his 40th birthday.
Before Star Trek, Brown shot a pilot with William Shatner about a Swede and an Irishman who emigrate to America. Brown played the Irishman. It aired but was not picked up as a series. Another of Brown's pre-Trek jobs with Shatner was in a 1963 episode of The Dick Powell Theatre entitled "Colossus". That episode also featured Frank Overton.
He went on to star in the TV series Here Come the Brides from 1968 through 1970. This series also starred TOS guest actors Mark Lenard and David Soul. That series featured a large number of Trek actors in guest-starring roles. The episode "A Kiss Just For You", for example, featured Michael Forest, Kathryn Hays, Gary Pillar and Ralph Maurer. "Ishmael", a popular 1991 Star Trek novel by Barbara Hambly, featured a cross-over with Here Come the Brides.
Brown previously appeared in episodes of Wagon Train, Perry Mason, and Bonanza. Brown's only notable feature film credit is the Roger Corman horror movie Tower of London, released in 1962.
Robert Brown's last known acting role was as a guest star in a 1992 episode of In the Heat of Night directed by Reza Badiyi.
External links