Robert Abel & Associates, or RA&A for short, was the first visual effects company hired to work on the visual photographic effects for Star Trek: Phase II , it eventually becoming, Star Trek: The Motion Picture. Design and construction work for the company was handled by Richard Taylor.
The founder of the firm, Robert J. Abel, was considered a pioneer in motion control photography, 2D and 3D visual effects. [1] However, Abel & Associates were unable to deliver effects footage acceptable to the film's producers and the firm was ultimately released. Some consider Abel's work on this film to be a "failed experiment"; [2] others in the industry have cited conflicts between the effects team and the production staff. [3] During their involment, RA&A operated its own studio model shop under the name Astra Image Corporation, also headed by Abel, and closely cooperating with Paramount's Magicam. [4]
Douglas Trumbull's company, Future General Corporation, was subsequently given responsibility for the effects work in March 1979. (The Making of Star Trek The Motion Picture) Several key staffers, initially employed at Abel, moved over to that company, among others Scott Farrar, and Andrew Probert, whereas Richard Taylor stayed with the company, only to leave later that year.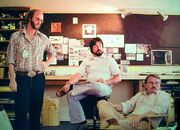 Founded in 1971 by Abel, together with his friend Con Pederson, RA&A was a pioneering company that employed the newest techniques in creating visual effects, including slit-scan photography, a technique Pederson picked up while working for Trumbull on 2001: A Space Odyssey (1968), and the earliest computer generated imagery (CGI). Initially the company employed these kind of techniques for producing groundbreaking commercials, among others for the beverage 7-Up and the clothing brand Levis, before branching out to motion picture productions. One of the first motion picture projects they worked on was Disney's The Black Hole (1979), for which they produced promotional materials and the opening sequence, before they were contracted to provide the special effects for The Motion Picture.
After the ill-fated project, the company worked on High Fidelity (1982), Disney's critically acclaimed TRON (1982), Breakin' (1984), the LaserDisc videogame Cube Quest (1983), and Steven Spielberg's television series Amazing Stories (1985-1986).
In 1986 RA&A entered into a merger with Toronto-based Omnibus Computer Graphics, Inc., but went out of business the following year as Omnibus defaulted on its investment. Many former, predominantly post-Motion Picture, employees went on to found their own companies to continue the pioneering work in CGI, and other techniques, which were among others, Rhythm and Hues, Metrolight, Sony Imageworks, Santa Barbara Studios (by later employee John Grower), Boss Film Corporation, Kroyer Films, and others.
Robert Abel himself passed away in late September 2001, at the age of 64.
Staff
External links