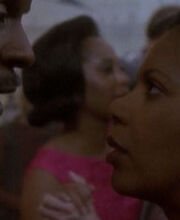 Robbin L. Slocum was a production associate who worked on Star Trek: Deep Space Nine. She also served as Ira Steven Behr's assistant.
In 1997, Slocum and her husband Edmund Newton pitched the story of the fifth season episode "Ties of Blood and Water".
Slocum appeared in the background of the scene set in "What You Leave Behind" as a holographic guest at Vic's Lounge.
External link
Edit
Ad blocker interference detected!
Wikia is a free-to-use site that makes money from advertising. We have a modified experience for viewers using ad blockers

Wikia is not accessible if you've made further modifications. Remove the custom ad blocker rule(s) and the page will load as expected.