Ad blocker interference detected!
Wikia is a free-to-use site that makes money from advertising. We have a modified experience for viewers using ad blockers

Wikia is not accessible if you've made further modifications. Remove the custom ad blocker rule(s) and the page will load as expected.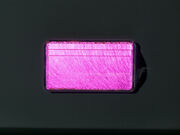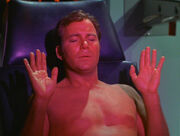 The Robbiani dermal-optic test was a medical diagnostic test that revealed a subject's basic emotional structure by analyzing skin and pupil response to visual stimulation at specific color wavelengths. Captain James T. Kirk was given a Robbiani dermal-optic test upon taking command of the USS Enterprise.
In 2269, Doctor Leonard McCoy subjected Kirk to the test to compare with his previous results, as part of a physical to determine the cause of Kirk's erratic emotional state. (TOS: "Turnabout Intruder")