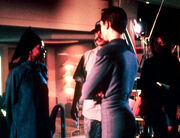 Robert Stanton "Rob" Bowman (born 15 May 1960; age 55) is a director from Texas who directed thirteen episodes of Star Trek: The Next Generation. Alongside Maurice Hurley and his assistant, Bowman was the Voice of the Borg in the first episode dealt with the Borg, "Q Who".
Bowman started his directorial career in television with an episode of Stingray at the age of 26, and has never looked back. Brought in by producer Robert Justman to direct the Star Trek: The Next Generation episode "Where No One Has Gone Before" as a replacement for Daniel Petrie, he went on to become one of the most important directors in the show's first two seasons. He directed his last episode in 1990, having directed thirteen episodes in all. He shot to fame as a producer of The X-Files, while also directing over thirty episodes of that series. He also directed The X-Files Movie and several episodes of the spinoff series, The Lone Gunmen.
Besides his X-Files work, Bowman directed numerous episodes of television series such as Day Break and Castle. He also directed a few feature films, mostly science fiction and action projects, such as Reign of Fire (2002, with Alexander Siddig and Alice Krige) and Elektra (2005, with Cary-Hiroyuki Tagawa).
Wil Wheaton has stated about directors, "most of them favored grabbing me by the elbow and moving me around the set, rather than, you know, giving me direction like I was a person or a professional or anything like that. ... but Rob Bowman, who directed this episode "Where No One Has Gone Before", actually treated me really well." and "Rob Bowman directed me to be as mature as I was capable of being when I was just 14." [1]
Directing credits
External links