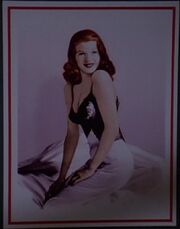 Rita Hayworth (1918-1987) was one of the most popular and beautiful film actresses of the early 20th century.
In an alternate timeline 1944, a German SS officer claimed that Americans were good at making movies with stars like Hayworth, Betty Grable and Veronica Lake, but not at fighting. (ENT: "Storm Front")
Hayworth was featured on the July 1947 page on a calendar in an army base near Roswell, New Mexico. (DS9: "Little Green Men")
Between 1943 and 1948, Hayworth was married to Orson Welles.
External links