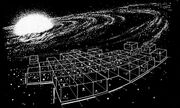 Rigel III was the inhabited third planet of the Rigel planetary system. (TOS: "Shore Leave") It was located in the Kandari sector, a region of space in the Alpha Quadrant. (Star Trek VI: The Undiscovered Country, production art; TNG: "Conspiracy" display graphic)
In an alternate future, Geordi La Forge had retired from Starfleet to become a novelist and was married to Leah Brahms. They had three children, Alandra, Bret and Sidney. The family was living on Rigel III. (TNG: "All Good Things...")
The location of Rigel identified in the "The Explored Galaxy" star chart placed it between the Tholian Assembly and Romulus. Both were identified in

DS9

: "

The Search, Part II

", "

Call to Arms

" as being located in the Alpha Quadrant.

It was stated in "All Good Things..." that in the alternate future Leah was the director of the

Daystrom Institute

, suggesting that the institute was located on Rigel III.