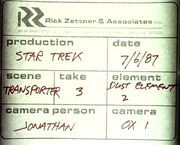 Rick Zettner & Associates, Inc. was a visual effects production company which created the transporter effect for Star Trek: The Next Generation in 1987.
The production company was located in Burbank, California and was incorporated by Rick Zettner on 1 November 1985. [1] David Ginsberg worked as Executive Producer between June 1987 and March 1988 coordinated the computer graphics and film productions, also for for national clients such as BASF, Case IH and ARCO. [2]
The company also produced and created the titles for the television science fiction western Timestalkers in 1987 and the opticals for the superhero sequel Superman IV: The Quest for Peace, also in 1987.
External link