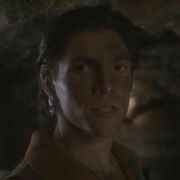 Rick Schatz played Gantt in the Star Trek: Deep Space Nine episode "Ties of Blood and Water".
Schatz has also guest-starred on Frasier (with Kelsey Grammer, Bebe Neuwirth, and Dan Butler), Step by Step, and ER (with Rosalind Chao and Lawrence Monoson).
He has also starred in motion pictures such as That Night, Heavy Blow, Mothers and Daughters, and My Father's House.
External link
Edit
Ad blocker interference detected!
Wikia is a free-to-use site that makes money from advertising. We have a modified experience for viewers using ad blockers

Wikia is not accessible if you've made further modifications. Remove the custom ad blocker rule(s) and the page will load as expected.