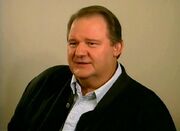 Richard Yuricich from Lorain, Ohio, was the special photographic effects producer in the 1979 film Star Trek: The Motion Picture. He served in the same capacity for the science fiction films Close Encounters of the Third Kind (starring Teri Garr) and Blade Runner (starring Joanna Cassidy). During the production of the first two features, he was in the employ as full partner of Douglas Trumbull's Future General Corporation. He shared Academy Award nominations with the rest of his special effects team for all three films. His work on the Star Trek film helped win the team the Saturn Award for "Best Special Effects."
He first served as a Rostrum animation cameraman for the 1968 sci-fi classic 2001: A Space Odyssey (starring Gary Lockwood). In 1971, served as part of the special photographic effects team for Douglas Trumbull's film Silent Running which built upon a number of special effects techniques developed for 2001.
He later served as associate producer in the 1983 sci-fi thriller Brainstorm, which was also directed by Trumbull, and starred Star Trek: Deep Space Nine actress Louise Fletcher.
External link