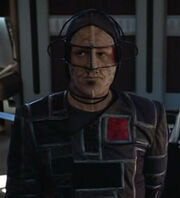 Richard J. Zobel, Jr. (5 June 1952 – 4 October 2005; age 53) was the actor who played Gaumen in the Star Trek: Voyager episode "The Raven". He was born in West Chester, Pennsylvania.
Zobel made his film debut in Sergio Leone's acclaimed 1984 drama Once Upon a Time in America, also that year he appeared in the comedy-drama film Teachers (starring William Schallert and Stephen Mendillo). His subsequent film credits include the Bob Clark-directed Turk 182! (starring Kim Cattrall and Paul Sorvino) and From the Hip (featuring Ray Walston) and the 1987 independent war drama Walker, starring Rene Auberjonois. Zobel later appeared in the films Warlock: The Armageddon (featuring Zach Galligan), Tall Tale (starring Roger Aaron Brown, and Montana.
He has also made guest appearances on such television series as Hill Street Blues (starring James B. Sikking), Mancuso, FBI (with Tim Russ), China Beach (with Concetta Tomei and Tom Wright), Melrose Place (with Sherman Howard and Rosana DeSoto), Bodies of Evidence (with Jennifer Hetrick, Jack Kehler and Susanna Thompson), and The X-Files (in an episode with John Billingsley, Michael McKean and Charles Rocket). In addition, he had recurring roles on Crime Story and Profiler. On the latter show, he worked with the likes of Erick Avari, Dennis Christopher, Steven Dennis, Lawrence Dobkin, Gary Frank, Lawrence Pressman, Stephen Root and Wade Williams.
Zobel died of cancer in 2005.
External link