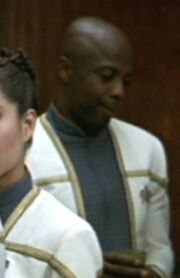 Richard Lee Givens is an actor and filmmaker who appeared as an operations division ensign in Star Trek: Insurrection. As a background actor he received no credit for his appearance. [1]
Givens attended the Grant High School in Van Nuys, California and played football, where he made records in the position of the Running Back. Later he attended the Trade School for Computers and worked as a computer operator until he found his main interest in the acting and entertainment business. Givens is occasionally working as a DJ for a radio show and founded the production company "L.A. Beats Entertainment", which produced and distributed the action film Rampart (2005) the drama Broken Glass (2006) and The Horror film Zombies Unleashed (2010). Givens served as writer on Rampart and as director, producer, and actor on all three films. Currently he is casting actors for his upcoming Family Comedy film A Little Problem (2012).
In addition, Givens appeared as Butch Lewis in the 1995 drama Tyson, with James B. Sikking, Paul Winfield, George Murdock, Lilyan Chauvin, Reg E. Cathey, Michael Jace, David LeBell, Miguel Perez, Ray Reinhardt, and stunt coordination by Gene LeBell.
External links