Rhomboid Dronegar sector 006 was a region of space located near the Epsilon IX sector. A segment of the Romulan Neutral Zone was located in this sector.
In 2365, the Mondor, a Pakled transport, relayed a distress call from this sector that was intercepted by the USS Enterprise-D. (TNG: "Samaritan Snare")
Background info
According to Startrek.com, Rhomboid Dronegar was a star and the namesake for this sector. The alternate name for this sector was Sector 006. [1] According to the Star Trek: Star Charts (pg. 19), this sector was named the Procyon sector.
In "
Conspiracy
", Sector 006 was implied to be in a range of sectors (004 to 010) in which segments of the Neutral Zone were located.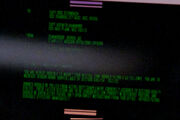 According to the script for this episode, the name of this star was pronounced "Romboyd DRAWN-i-gar." [2]}