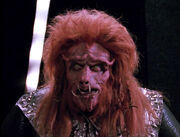 Reiner Schöne (born 19 January 1942; age 74) is the actor who portrayed Esoqq in the Star Trek: The Next Generation third season episode "Allegiance" in 1990.
Schöne was born in Fritzlar, Germany, grew up in East Germany, and escaped to West Germany in May 1968.
In 1975, he appeared in the film The Eiger Sanction. He also acted in an episode of MacGyver with Vince Deadrick, Jr. in 1990.
He has appeared in many other television shows, including Babylon 5 (with Bill Mumy and Andreas Katsulas), Sliders (with Marshall R. Teague and Karen Austin), and JAG (with Corbin Bernsen, Steven Culp, Chad Haywood, William Lucking, John Mahon, Terry O'Quinn, Darin Cooper, and Paul Collins).
External links