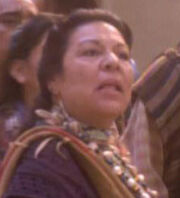 Rebecca "Becky" Parker is an actress who appeared as a background actress in two episodes of Star Trek: The Next Generation in 1994. She first played a Dorvan V colonist in the seventh season episode "Journey's End" for which she was cast by fellow actor John Saint John, and then appeared as a Juhraya colonist in the penultimate episode "Preemptive Strike". Parker is married to fellow Trek background actor Bobby Parker.
Ad blocker interference detected!
Wikia is a free-to-use site that makes money from advertising. We have a modified experience for viewers using ad blockers

Wikia is not accessible if you've made further modifications. Remove the custom ad blocker rule(s) and the page will load as expected.