Ad blocker interference detected!
Wikia is a free-to-use site that makes money from advertising. We have a modified experience for viewers using ad blockers

Wikia is not accessible if you've made further modifications. Remove the custom ad blocker rule(s) and the page will load as expected.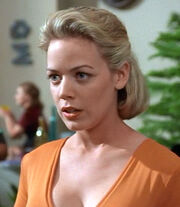 Rebecca McFarland is the actress who played Talli in the Star Trek: Voyager episode "Random Thoughts". She is perhaps best known for her starring role in the short-lived NBC show Working.
McFarland also played Anna in the Seinfeld episode "The Little Kicks" opposite Jason Alexander as George.
External links
Edit
Rebecca McFarland ending her acting career

wbm