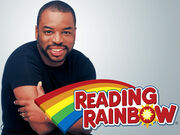 Reading Rainbow was a television show broadcast by Public Broadcasting Service (PBS) that ran from 1983 to 2006, spanning 21 seasons and 155 twenty-minute episodes. Hosted by LeVar Burton, the goal of the show was to inspire a love of books among young viewers. Of particular interest to Star Trek was the first episode of season 6 titled "The Bionic Bunny Show".
Broadcast on 15 August 1988, Burton took the viewers on a tour exploring the various behind-the-scenes aspects of shooting a Star Trek show. Made during the shooting of TNG first season's "Symbiosis", it stands amongst the very first "making-of" documentaries of the series (the first according to Larry Nemecek [1]) featuring, among others, interviews with Robert Legato and a blooper reel. [2]
This behind-the-scenes segment will be released as part of the Bonus Features on the TNG Season 2 Blu-ray set in December 2012. [3]
External links