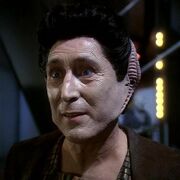 Ray Buktenica (born 6 August 1943; age 74) played Deyos, the Vorta commandant of Internment Camp 371, in the Star Trek: Deep Space Nine episode "By Inferno's Light".
He is best known for his role as Rhoda's sister's boyfriend, Benny Goodwin, on the classic sitcom Rhoda and also for his role as the stereotypically neurotic Dr. Norman Solomon on the series House Calls.
Buktenica has also appeared in films such as the 1976 version of King Kong, My Girl (with Tom Villard) and Heat.
External links
Edit
Ad blocker interference detected!
Wikia is a free-to-use site that makes money from advertising. We have a modified experience for viewers using ad blockers

Wikia is not accessible if you've made further modifications. Remove the custom ad blocker rule(s) and the page will load as expected.